Lan Ha Bay Tour 1 day, Cheap Lan Ha Bay day Tour is organized daily from Cat Ba Island to Lan Ha Bay by boat visiting the bay with a capacity of 50 guests but the tour group is limited to 30 guests to ensure the best quality.
Ha Long Bay – Lan Ha Bay day tour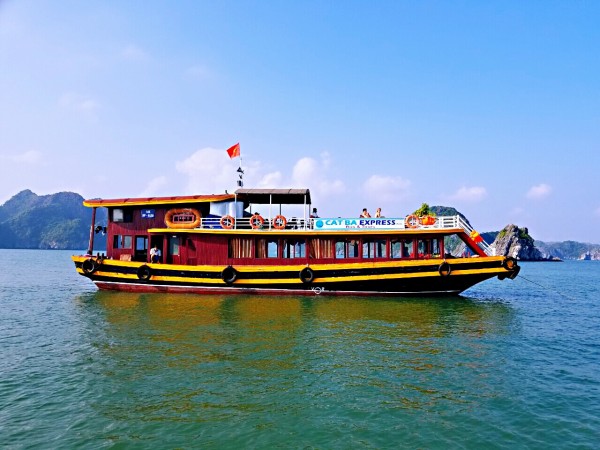 Highlight in Lan Ha Bay day tour
Unique tour design with selective destinations to bring guests to lesser-known idyll spots but no less stunning than anywhere in the region.
Extended time stay on the cruise (considerably longer than typical cruise day-tour).
Explore the dreamy seascape on kayak.
7:30 Pick up at hotel for Beo port (Cat Ba's main tourist port)
08h00: Check in procedures on board, you are welcomed with a week of tea and peanuts before the ship anchors.
The boat glides across Cai Beo fishing village, then on Monkey Island (Do not visit Monkey Island). Next, the boat goes straight to Lan Ha Bay where there are thousands of limestone mountains under the clear blue water creating an impressive picture of water that fascinates visitors.
9.30: The boat stops at the Floating House, tourists are free to take photos, learn about the life of the fishing village, admire the fishing gear of dozens of kilograms in weight, which is known by locals and tourists as " Lucky Fish "is unique in the Tonkin Gulf.
Next the boat will anchor at Dau Be Island, from here you will kayak to visit Ba Ham Lake nestled amidst the majestic nature.
On high tide days, there will be an alternative program: The boat runs straight through the fishing village of Cua Van, Rang Dua island, Con Coc island and you will kayak at Sang cave – Dark cave.
12.30: Enjoy lunch on board with a variety of seafood seafood while the train is still running. After lunch, the ship will anchor at Ba Trai Dao beach area, relax on board, beach, float or jump from aboard to cool blue water.
14.30: Have breakfast at sunset Party (light meal including cakes, fruit and tea) while cruise ship returns to Cai Beo wharf.
15.45: Boat arrives, visitors board the car to the original meeting point at the hotel in Cat Ba and Cat Ba Express office in Cat Ba Island or on our bus to Hanoi.
The program ends, wish you happy, happy, full of inspiration for the following journeys.
Lan Ha Bay Tour is only suitable for those who have been in Cat Ba and ending the tour you can return to the hotel or our bus to Hanoi very perfect.
In addition, Cat Ba Express also has an alternative Monkey Island tour with a time of 2.5 – 3 hours for those who have less time fund.
Price includes:
Car transfer and pick up from Cat Ba town center.
Tickets to visit Lan Ha Bay.
Lunch on the boat with many delicious specialties.
Tour guide: Professional, enthusiastic, proficient, thoughtful service throughout the tour. (English and Vietnamese).
Kayaking
Snorkling equipment (snorkling depending on the weather, masks, snorkel).
Travel insurance according to scenic tickets.
Menu in the program.
Sup fresh seafood.
Fish with tomato sauce.
Seafood rolls.
Crispy fried shrimp.
French fries.
Roasted chicken with ginger.
Stir-fried vegetable.
Cucumber Salad.
Fried rolls.
Deep-fried tofu.
Roasted peanuts.
Fruit dessert.